A Cup of Kindness
It is a new decade and a time of change. Here at Thousand 4 1000 we are launching a campaign to double our donor base and double our income by the end of the year. We are calling it the Cup Of Kindness campaign. That's partly because asking people to give as little as a pound a month is not a very effective fundraising strategy, so we are going to change that by suggesting that people give us the price of a cup of coffee every month. You're still welcome to give a pound of course. One of the points of the project is to show that there is no migrant crisis. The costs of being hospitable are minimal. Almost everybody can spare something and we want everybody to be involved. It's mass action that brings change.
Why now?
Well, partly because our donor base has not been increasing for a while. It's creeping up but we need to take things to the next level. Another reason is that one of the changes that are happening is that Brighton has become what they call a "dispersal town". This is fantastic news. There are now 29 asylum seekers billeted on Brighton by the government. It's not a huge number of people, but I'm glad that at least some people escape being pushed into forsaken housing in post-industrial towns in the north-east. We will fight for every individual's right to remain, but, with the best will in the world, the chances are that some of them will have their asylum claims refused and so they will be homeless by the end of the year. The town is going to need to have a solution to keep people housed whilst they go through the process of making fresh submissions. Even now, we know of three people in that situation who are homeless and sleeping on sofas. You are also supporting three people with host families and one in his own home, but with funding that will only last a year.
What can I do?
To fund a single adult costs about £700 per month. It's about £500 per month for a room, £100 per month for bills and a further £100 so that you can eat. Our regular income is just over £2000. You can do the maths. You can also help and here's how:
If you're still donating £1 a month, perhaps you could increase it to the price of a cup of coffee.
Talk to your friends. If everybody who was part of the project found one more person to support the project, we'd meet our cup of kindness goal.
You can follow us on social media:
If you're young enough you could even run an Instagram feed for us or other young people social media*.
We have some donation tins and we want them to go in local shops. If you can think of a shop that might take one, we can get you a tin.
Everybody has a birthday and lots of us have enough stuff. Could you ask your friends to donate to us instead? Facebook even lets you do that automatically. Here's how.
Come to our events.
Events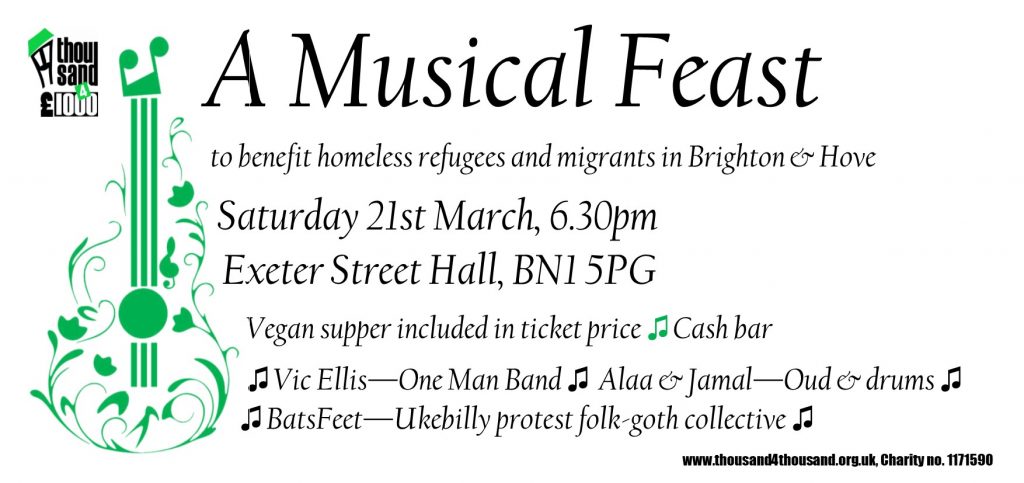 Speaking of events, we have a fantastic, upcoming musical feast at Exeter Street Hall. It is on 21st March.
You will get supper as well as music from Vic Ellis, Alaa and Jamal, and BatsFeet.
That's music which ranges from Syrian high classical through to ukulele Goth-folk-punk. It's a celebration of diversity.
You can buy your tickets through eventbrite. See you there.
Home is Where the Hearts Are
I'm going to round off with my current reflection on the asylum process. One of the homeless men on sofas has very little realistic prospect of gaining refugee status. Nevertheless, his family were killed in a civil war and his homestead burnt. The issue for him is that the fighting is localised to a particular region of his country and so the Home Office will say, legally quite rightly, that there are places in his country to which he can return and in which he would be safe.
But there's something very strange about this. The reason that the conflict is localised is that, like almost anybody who comes from outside of Europe, he comes from a country which was a creation of European colonial powers. It's a commonplace,. though true, that the colonial powers in their carving up of the world stuck together in a fairly arbitrary manner diverse populations and declared new territories. With independence, those territories became states. It is notable how fast nation states as an idea embed in people's consciousness. People do have national, state-based identities despite nation states being an extremely new invention, but that identity pulls against other overlapping identities. In many cases, just like in this country's case, in some regions people explicitly reject the national identity foisted on them. It's what has led to the conflict. Also, more mundanely, life in different parts of the same nation state can be extremely different. One is not necessarily at home simply because you remain within your own national territory. You could be somebody who is not de jure 'outside of the country of his nationality', but very much be in exile de facto. The U.K.'s furious desire to use the possibility of relocation as an excuse to remove refugees seems historically insensitive as well as cruel.
The cruelty of the policy of understanding "refugee" in as narrow, technical sense as possible is not just limited to historical insensitivity. People pack up and leave when terrible things have happened to them. You run away, not just when you feel unsafe but when you feel unable to carry on. We ought to be kind and welcoming to people who have had their families threatened, attacked or murdered. It shouldn't matter whether that was carried out by a rebel group, a vicious neighbour, a criminal gang or the state security forces. If you have been through that trauma, you have every right to expect welcome from your fellow human beings. Unfortunately, what happens when you arrive in Europe is that you face a state bureaucracy utterly without compassion. If you can adduce evidence to convince a, not just sceptical, but hostile decision-maker that there is nowhere safe for you to live in the legal entity of your nativity, then, grudgingly, they will grant you asylum.
This is not the world I want to live in. I'm pretty certain that you don't either. We can't expect to change the law through legal process alone. Law is always conservative. It, by definition, embodies the social mores of those in power. But those in power are not on high, over there. Not only do they need popular support to govern, we are them. You may set yourself in opposition to a particular politics, but it does not lessen the fact that you are a joint party to the creation of the political world. We have power and we can change the prevalent social mores. That's what you, me and all of us are doing with our cups of kindness. We are bringing people in and creating space for all.
A thousand thanks,
Jacob and all of us at T4K
* I am sure there are some middle-aged or older people who, unlike me, have not been overtaken by technology. You'd be welcome to run the instagram for us too.