The family:
Rasoul = the dad, mid-thirties
Daneal = the son, 9 years old
Nasrin = the mum, mid-thirties
Rozha = the daughter, 10 years old
Malihereza = paternal grandma, mid-seventies
1. Welcome to Brighton….
Daneal, a football fan, went to see Brighton and Hove Albion play in February 2018.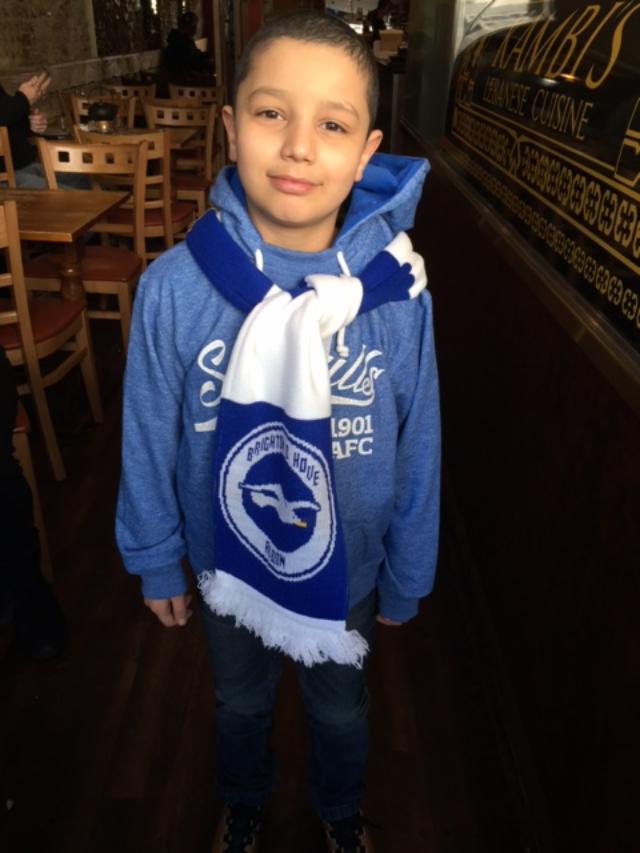 A local supporter of T4K – also a big BHA fan! – secured tickets for him and his dad to attend the match. He provided transport, the team "gear", and helped them find their seats amongst the 20,000+ crowd. BHA won – and so finally have Daneal and Rasoul, but it's an ongoing struggle…
2. The Separation
Rasoul and Daneal left their home in Iranian Kurdistan in October 2015, as Rasoul was in danger of persecution. They paid almost all their savings for what they believed would be a safe and straightforward journey.
Rasoul's father had died in 2013, leaving an elderly widow, Malihereza. So it was decided that Nasrin and Rozha should stay behind to look after her. Rasoul and Daneal would go to England to join Rasoul's older brother in Brighton, get settled and then they would reunite.
However, the journey to the UK turned out to be very dangerous – through Turkey, the Aegean, Greece and then overland to the Calais camp, where they were stuck for several months. They eventually travelled by lorry to London, where they claimed asylum in July 2016. This journey took a total of nine months, during which they witnessed injury and death at close hand, were robbed of their money and few possessions and Rasoul was stabbed in the back in Calais. Daneal has nightmares about his experiences.
Rasoul and Daneal were given Refugee Status in the UK. Following initial assessment, Home Office dispersal led them to spending several safe, but not very happy, months in far-flung towns, where they knew no-one. When their ID was confirmed in early 2017, they managed to move to Brighton, to established Farsi-speaking and Kurdish-speaking communities.
3. Reunion
Over the last year, with the help of T4K and our local MP, Caroline Lucas, Rasoul has battled to reunite his little family. There have been many setbacks, including a long journey and a protracted stay in a third country for Nasrin, Rozha and Malihereza to undergo biometric testing.
At last, in August 2018, Nasrin and Rozha were granted entry visas to the UK and arrived safely at Heathrow Airport into the arms of Rasoul and Daneal. Sadly, Malihereza's application was refused and the family will continue to appeal.
4. A brighter future
The family is currently living in a small flat provided at very low rent by a generous supporter of T4K.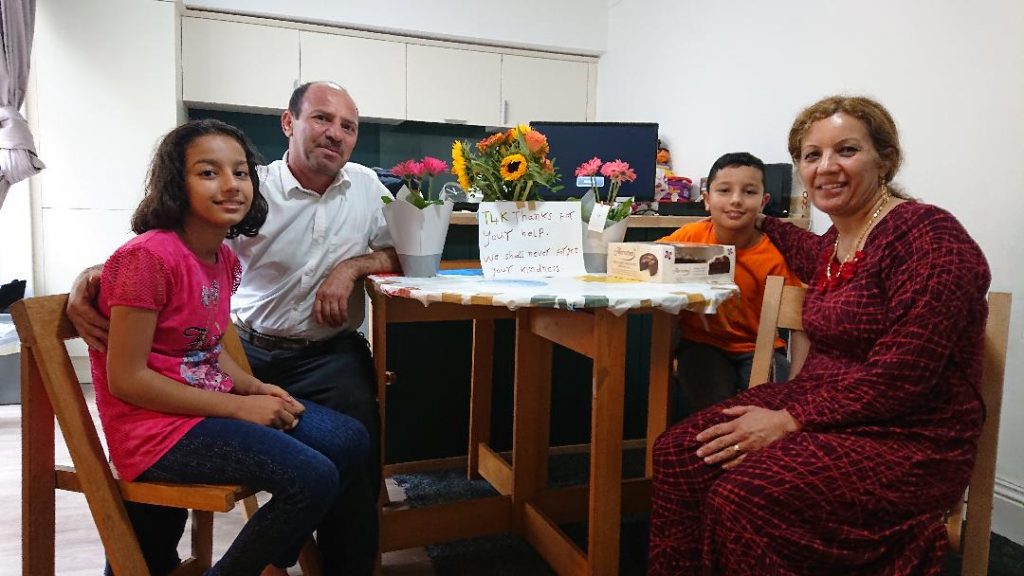 The family is happy, living near to the children's school and to local English language classes. The owners of their flat are delighted to be able to share their property with a vulnerable family, and only request that the flat be well maintained and cared for, as it's their insurance policy for survival in their later years!
The hosts/owners recently met the guest family again at a fund-raising event for T4K and the owners said how delighted they were to see the difference their decision had made to a very needy family. Everyone applauded when Daneal was chosen to pick the raffle-winning tickets. He responded to 300 people like a pro and picked the tickets with confidence. His dad looked on proudly!

Nasrin will soon make friends at her English classes and will also be attending a local women's sewing group. Rozha has already made three friends in her first week in school and says she is very happy there. The school kindly agreed to take her for the start of the school year at very short notice.
Daneal continues to thrive at school and is popular with his peers, and a keen member of the school football team and loves skateboarding on the sea-front. His teachers are pleased with his progress, and he no longer needs counselling to help him sleep. He has a laptop, provided by another Brighton charity. He now takes care of his older sister as she starts school in England.
Rasoul now looks ten years younger and can't stop smiling! He and Nasrin have exciting plans for starting their own small catering business in the future.
The day his wife and daughter arrived in the UK, Rasoul said: "Thank you to T4K: we will never forget your kindness".