In May 2020, Jacob wrote in our newsletter that "the great Jewish philosopher Maimonides taught that if you live isolated and alone and you meet a hungry person, you need to provide her with a meal. But, if you meet her in the city, you need to provide her with an olive's worth of food."
This is the principle behind T4K—that a community, by pooling its spare resources, can easily make room for new arrivals who need a hand. And that in turn, everyone who joins a community strengthens it.
During 2020-21, we witnessed an extraordinary growth of mutual support and kindness all over the UK, in response to a virus which reminded us—in the most terrible way—of our shared vulnerability.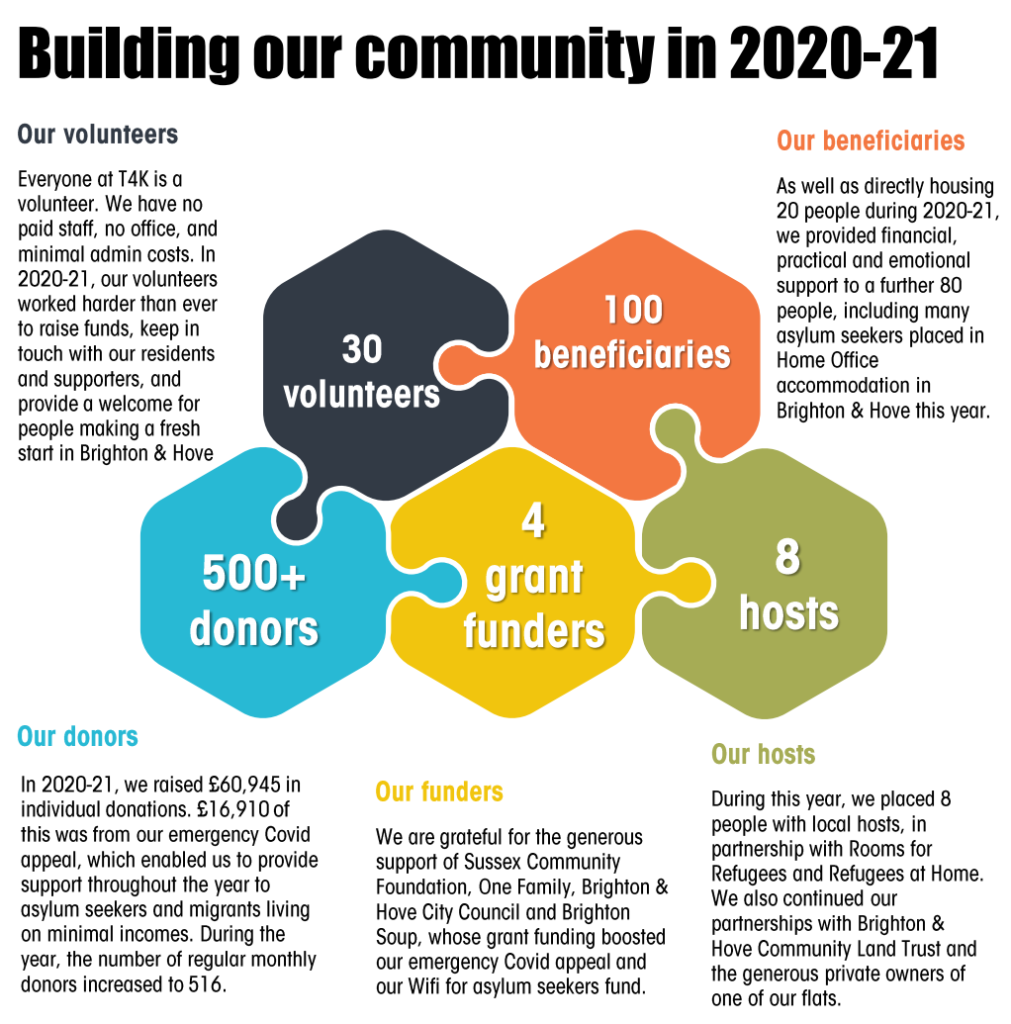 In 2020-21, we:
Raised £23,698 through our emergency Covid appeal, which enabled us to provide regular financial and practical support to 100 individuals in the city, who would otherwise have been destitute
Supplied 3,461 masks to help people protect each other from infection and raise additional funds for our work. The masks were made by one of our residents, who was paid for her time and has now launched her own sewing and alterations business.
Provided reliable broadband internet for 5 shared houses where asylum seekers had been placed by the Home Office.
Organised the first three online events in our Citizens of the World in conversation series, which brought together artists, writers and activists from many different countries to share their experiences and discuss the meaning of migration for their lives and work.
Continued to raise funds from hundreds of monthly donations, in order to provide secure housing for migrants and refugees whose ability to rent a home is limited by the British government's 'hostile environment' policy. Our income from monthly donations stood at £2,500 per month by the end of the year.
Read more in our full Annual Report 2020-21