2021-22 was a year in which our little community began to renew and rebuild the human connections we all rely on. We celebrated the resilience and resourcefulness of our residents and volunteers; mourned some sad losses and cheered some heartening wins. When we couldn't physically be together, we kept our connections alive through technology, but nothing can beat the feeling of sharing food and laughter with friends under the same sky.

We remain committed to the belielf that a community, by pooling its spare resources, we can easily make room for new arrivals who need a hand. And that in turn, everyone who joins a community strengthens it. We also build that community through thousands of small, intangible acts of kindness, acts that go on to foster connections and solidarity.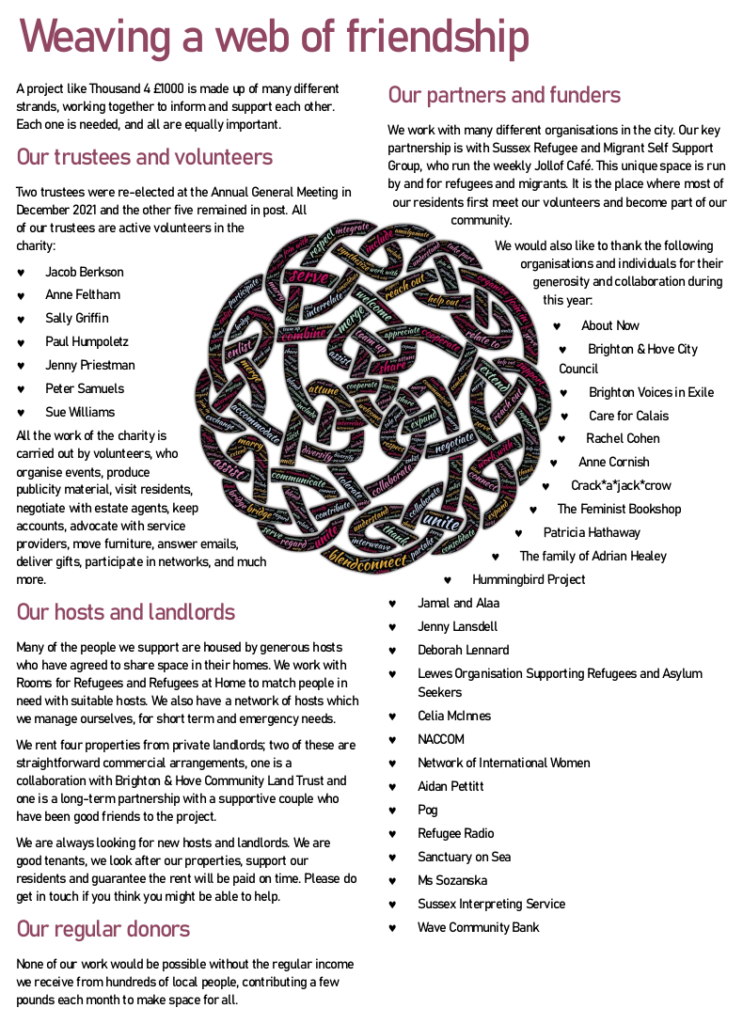 In 2021-22, we:
Provided stable, supported housing for 15 adults and 6children
Arranged placements with local hosts for a further 13 adults
Supplied WiFi connections and other support to 5 households of asylum seekers, placed in Brighton & Hove by the Home Office
Provided financial and practical support to 68 otherpeople, including former residents and new friends connected to the Jollof Café network
Raised funds to provide gifts at Christmas to 97 asylum seekers billeted in a local hotel by the Home Office
Organised one online event and three real life gatherings
During 2021-22, 7 of the people we were supporting were successful in gaining leave to remain in the UK. Having a stable place to live, a supportive community and access to communication technology was immensely valuable in helping them navigate the UK's hostile border. All of these achievements were made possible by the contributions of hundreds of local people, chipping in money, time and expertise to help extend a hand of friendship to people rebuilding their lives in our city.
Read more in our full Annual Report 2021