Order your cloth mask here, to help stop the virus in its tracks.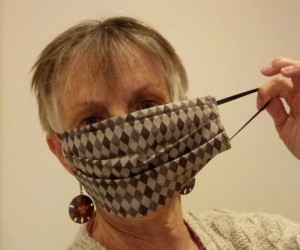 One of our residents, a skilled seamstress who is a refugee from Iraqi Kurdistan, is making high quality masks to help minimise the spread of the Covid-19 virus within the local community.
The masks have a double layer of cotton, with space for a disposable filter (such as a paper towel). The top edge has a mouldable wire, to help fit the mask more closely to your face. They are hand washable, so they can be cleaned and reused when you next need to go out for shopping or essential tasks.
Here are some tips on wearing cloth masks properly and safely.
Our volunteers can deliver your mask(s) to you by hand (contact free), in the Brighton & Hove area. Outside Brighton, we will send them by post.
Please donate what you can afford – suggested donation: £6 per mask or £10 for two. Please add £2 to your donation to cover postage costs, if applicable. Funds will be used to cover the cost of materials, pay the maker for her time and support our charitable work of providing homes for refugees and migrants who would otherwise be homeless.
Here's what one happy recipient, Fiona, had to say about her masks:
Thank you so much for dropping off my masks. They are beautifully made and stylish too! They have exceeded my expectations
Mask order form